Crowfall Legionnaire Healing
The OP made a very good point, we've devolved the conversation away from said point. The only worthy complaints I agree with are those of the Legio's ability to generate rage. The Legionnaire's "c" ability works fine if you think of it as a buff that heals rather than a heal that buffs.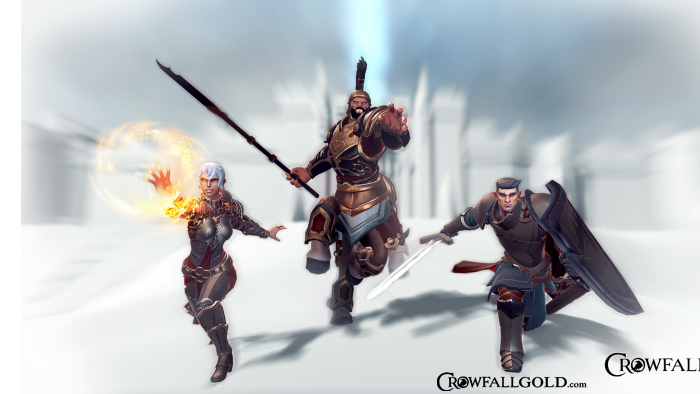 Unfortunately it appears healing is going to stay with the centaur. With that in mind, the Legionnaire needs better rage generation and I would like to see the old "Linebreaker" skill re-instated. The current "2" ability is a waste of resources, maybe that will change with the actuation of "support power", we'll see, but as it stands the amount of time it takes to generate enough rage to use "2" does not equate with the results you get from "2". Especially considering "6" doesn't generate enough rage from null to cast "2" even though the numbers in the tooltip says it does.
Each Legio swing should generate ~2-5 more rage per. This is the only way to make the Legio feel like it has more options in a battle other than to occasionally throw a janky heal out. Either that or give the Legio better resistances to allow it a chance to stand still long enough to adequately generate enough rage to feel useful.
As it stands in SP you either keep moving as a Legio or you get focused then are forced to run for your life. If you attack to generate rage, you aren't moving and get focused and can get a few swings off before you are forced to run. This is OK for mana-using archetypes as there is a pool of resources they can allocate before they engage, with the Legio you must engage to generate resources (rage) and thusly lose resources (health) in the process. The resource trade-off does not seem balanced at the moment.
Maybe it was the horrendous lag I've experienced in the last 2 tests but Legio feels near useless in battle right now.
Taking what I've said in to consideration, the release of the Druid may mitigate the focus on Legios once it drops, and can render moot some, though not all, of the points I've made.
I could be speaking out of turn, as there may be skills I have yet to discover that increase rage generation to a point where it feels adequate, but until then I maintain that rage generation for the Legionnaire is sub-par.
Actually they fall under the the classic 4 classes: Priest, Mage, Rouge, and Fighter
Take how things were done in ShadowBane (the spiritual successor to this game):
Priests were healers, buffers, and CC (stuns and roots)
Mages were true glass cannons (not the gorilla glass cannons Confessors currently are), and buffs/debuffs
Rouges were high DPS sneek attacks, small healers (Bards in SB),and buffs/debuffs
Fighter were tanks, small healers, buff/debuffs, and could be highly skilled in every weapon type and do the most damage with them
Based on where ACE currently has Legionnaires they are almost Rouge types where they small heal and buff/debuff but don't posses the second line fighting skills found in ShadowBane second liners like Bards, or Sun Dancers.
If ACE is aiming to make Legionnaires like these types of front/second line viable support, they are falling short on DPS (not that it need to be like a Knight or Champion, but it needs to be better) which is odd considering Legionnaires should be the heaviest race and so have ALOT of muscle and weight to put into an attack and do damage. If not that, we should be more agile and be able to use speed to get into and out of the front line more effectively, like reducing the stamina cost on the RMB Dodge so that with a full Stamina bar you could dodge 3 times and not just 2.
Somehow, the Legionnaire needs something "cool" to make it desirable (maybe be able to do a back kick on demand with high damage with a reasonable cool down) and some improvements to make it effective in the second line support/fighting position (higher health or physical resists?).
This game has a long way to go with balancing, Disciplines, settling out the of various rolls, and even finishing off the base powers each gets. The potential is very clearly there though.